Featured Stand Up Paddle Boards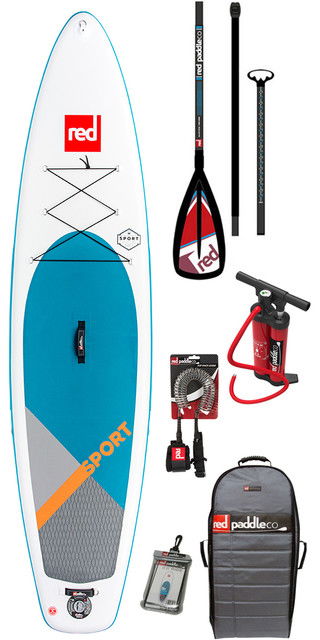 2018 Red Paddle Co Sport 11'3 Inflatable Stand Up Paddle Board + Bag, Pump, Paddle & Leash
Red Paddle Co Sport 11'3 Inflatable Stand Up Paddle Board + Bag, Pump, Paddle & Leash If the Ride boards are the equivelant of a family estate car, the Sport range is definitely the soft-top roadster! The Sport range of boards offers a step up from the ride family and is designed for the more experienced paddler to deliver more speed and dynamic performance(Although they're not race boards).

The secret lies in the sleek shape, which cuts through the water cleanly and the drawn out nose section, which gives more glide across the water.

The 11'3 is suited to the slightly larger rider.

All boards boast our patented RSS system for max rigidity and minimal flex. What's in the box? 11'3 Sport Air SUP 3-Piece Paddle. Red Original All Terrain back pack/Board bag. Titan pump. Repair Kit Leash Water resistant phone case. Removable FCS US box fins. RS battons. Board Specs Length 11'3" Width 32"/813mm Thickness 4.72"/120mm Volume 306 Litres Rider weight 110kg/242lb MAKE MINE AN MSL..... Stronger, Lighter, Stiffer Red Paddle Co's unique MSL technology is heading up the market for inflatable SUP design. Red Paddle Co's mission is to design and manufacture high-quality boards with zero compromise. THE BENEFITS OF MSL: Cosmetic finish: All 2017 Red Paddle Co boards now have an industry leading cosmetic finish with fewer wrinkles and blemishes.  The board looks cleaner, smoother and even feel better to touch. Weight saving: Red Paddle 2017 boards are up to 2kg lighter than previous versions.  But, importantly, they are not too light.  If a board is ultra light it's more affected by wind and currents on the water. Lower pressure: All Red Paddle boards now benefit from extra torsional stiffness, so they remain stiffer at lower pressures.  We recommend a pressure of between 18-2psi.  Less pump more paddling. Durability: The multiple-layer coating of Red Paddle Boards is tough and durable.  Thermosealed deckpads also keep their colour better than screen printed alternatives that fade quite quickly.  When you combine MSL with Red Paddle Co's patented RSS stiffening system you have inflatable boards that deliver the world's most authentic stand up paddle board experience. Extended warranty available Thank you for choosing a Red Paddle Co product through Wetsuitoutlet. By registering your purchase with Red Paddle Co, they will be able to offer you more effective customer service and keep you updated on what's going on in the Red world. All Red Paddle Co products co
£998.95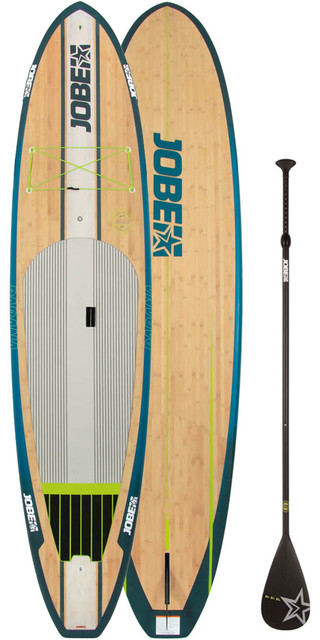 2018 Jobe Bamboo Parana 11'6" Stand Up Paddle Board Inc 3-piece Fiberglass Paddle 486518003
Jobe Bamboo Parana 11'6" Stand Up Paddle Board Including a free 3-piece fiberglass paddle, choose between Black/Lime/Blue The Parana 11.6 has deep channels to obtain extra speed, tracking and stability.

This makes her perfect for an expedition and strong enough to take with you whatever you love under the bungee cord.

With a thickness of 5'', buoyancy is garantueed and stiffness is added while remaining control.  Moreover, a 9'' single fin keeps the Parana on track while you taking the lead.

An ergonomic carry handle makes carrying the lighweight board even easier.

Little extra: get a SUP leash straight 10 ft green and a railsaver, too. Features: 3 Year warranty Length: 11'6" (3.5m). Width: 31'' (78.7cm). Thickness: 5" (12.7cm). Volume: 203L Recommended rider weight: up to 120 kg/265 lbs. Board weight: LBS: 32,4 (14, 7kg). Nose Rocker: 5 15/16", Tail Rocker: 3 3/16" Bamboo veneer 9 ft.

Straight leash 5mm thick grooved EVA traction deck easy-to-connect Leash plug Camera plug to capture all #jobemoments Comfortable carrying Handle 9" tool less fin US fin box for optimal fin position Stability and speed control channels Rail saver to prevent scratches Bungee storage net Automatic air vent plug  
£948.95
Bestway Hydro-force High Wave Inflatable Stand Up Paddle Board Sup Set - White, 9.35 Ft
The Bestway Hydro-Force Highwave Inflatable SUP is a great all-rounder that's as comfortable on the waves as it on a lake or river.

It has a surf-inspired longboard shape to handle mid-size waves but with less curvature than a rocker board to glide on flatter waters.

The inflatable SUP comes with all of the equipment you need to carry it, inflate it and hit the open water, including a deluxe backpack, manual inflation pump and 2.15m adjustable aluminium oar.

As a complete package, it's perfect if you're looking to purchase your first paddleboard.

Specifications: L285cm x W76cm x D10cm (9'4" x 30" x 4") / 75kg (165lbs) weight capacity / 178 litres (47 gallons) air volume.

Features: 3 modelled fins for directional stability / Drop-Stitch material for unparalleled strength and durability / Quick inflation and deflation valve / Non-slip traction pad / Elastic cord for storage / Convenient deck handle to help pick up and carry the SUP.

Contents:
£300.77
Further Information
The Stand Up Paddle Board Watersport has been around for a long time, but in recent years has become extremely popular mainly due to the aerobic nature of the sport and the amount of fun that it provides. We compare Stand Up Paddle Boards, Paddles, Wetsuits, Rash Vests, Accessories and more from leading Surfing Retailers to bring you the best prices for the top brands.
Stand up paddle Surfing, or Hoe he'e nalu in Hawaiian, is an up and coming sport that combines a Stand Up Paddle Board (sometimes abbreviated as SUP Board) with a stand up posture and a bladed paddle. Let's take a closer look at this fascinating sport.
The History and Reemergence of the Paddle Board
It's origination is Hawaiian and began as a way for Hawaiian surf instructors to maintain a better viewpoint of their students, as standing up gives better views of incoming waves. The term "Beach boy surfing" originated from Waikiki with surfers using these boards to get better viewpoints of tourists learning how to ride waves. The introduction of stand up paddle boarding into the modern scene is credited to the well known big wave surfers Dave Kalama and Laird Hamilton. Rick Thomas was the first of this generation's surfers to use a stand up paddle board in the beaches of USA, taking a Munoz board with a Kinimaka paddle to California water in 2000.
SUP Surfing Advantages
This surfboard and surfing type has some tangible advantages:
Surfers gain a better view of incoming waves, which means they are able to catch more of the waves to surf on.
Paddle Surfing is great fun, and can provide many hours of enjoyment. Surfers don their wetsuits and paddle out for a great round a wave catching.
Stand Up Paddle Boarding is known to give a great full body workout with an emphasis on the core muscles. As such, many cross trainers are beginning to favor the up and coming sport as a great way to maintain their physique and endurance.
The Equipment
The requirements for an enjoyable experience include a paddle board, paddle, chosen clothing, skin and eye sun protection, and a personal flotation device.
Paddle Board prices vary, we have a great selection on our Paddle Boards page, and the boards vary in size to suit the user's experience level. The boards are usually longer than ordinary surf boards, being about 9 to 12 feet in length. Flatter, wider boards benefit the novice as they require a more stable ride on the water. Narrower boards are for those that have already been enjoying the sport for some time and don't need as much assistance in balancing. Paddles should be chosen based on your height, with a standard one being 6 to 9 inches taller than the rider (although some manufacturers claim that 8 to 10 inches is a better decision).
Temperatures should be noted before venturing out on the water, as hypothermia can occur in colder climates. Consider a Wetsuit if these types of conditions could be present. In warmer climates anything that can respond to your movements and is comfortable when wet, such as a Rash Vest and Board Shorts or any standard swim wear would be suitable.
If surfing in the US it is of note that the US coast guard now maintains that SUPs are vessels. As such, those participating in this sport in US waters are required to wear floatation devices when at certain beaches.
Conclusion
If you're looking for some new variety and maneuverability in surfing, stand up paddle boarding may be for you. This is a wonderful new addition to sport of surfing as a whole, and offers a kind of visibility and maneuverability that you are sure to enjoy. So go grab one of these boards, put on your wetsuit, and hit those waves!